Exeter Cycles offer all servicing and repair facilities at topsham road, from just a simple puncture repair to a full stripdown and restoration. We have built a great customer base and continued loyalty as we feel that we offer the best value for money workshop in Exeter!, we always manage to do more work for a lot less money than some of the other shops around. We have outstanding experience of working on almost every bike imaginable, dealing with every type of repair that needs fixing and we are also available for just some great free advice.
We repair all types of bikes including older bikes, we love them but most shops dont have the time of day for them as they are time consuming to fix, therefore not that profitable for the shop! however we dont care, we just love keeping the oldies going, That old adage "they dont make em like they used to" seems to be quite apparent in our shop!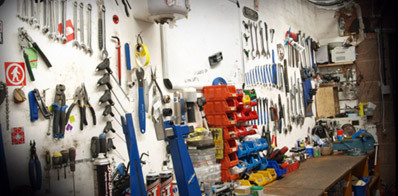 We take absolute pride in what we do and have managed to successfully build our reputation off of the back of good customer service, honesty and of course our workshop quality, we don't rush anything just to get it out the door, we take more time to make it right, this way leaves us able to sleep more easily at night and build on the reputation we have. Also where possible we always do our best to repair rather than just replace, this approach ultimately leads to lower prices for you, our customer. Its not always possible but we try our hardest to make this happen to save you money, this is not the way that other shops view this approach but it works well for us and has put us where we are today.
We are authorised dealers for all major parts distributors, so servicing any bike is not an issue.
We are very conveniently located at 204 Topsham Road, Exeter, EX2 6AA which is at the bottom of barrack road and on the main arterial road from the M5 at junction 30, and only just a few minutes from Countess Wear or the City Centre. You can park directly outside our front door.
SERVICING, REPAIRS, SPARES, ACCESSORIES, CYCLESCHEME APPROVED DEALER